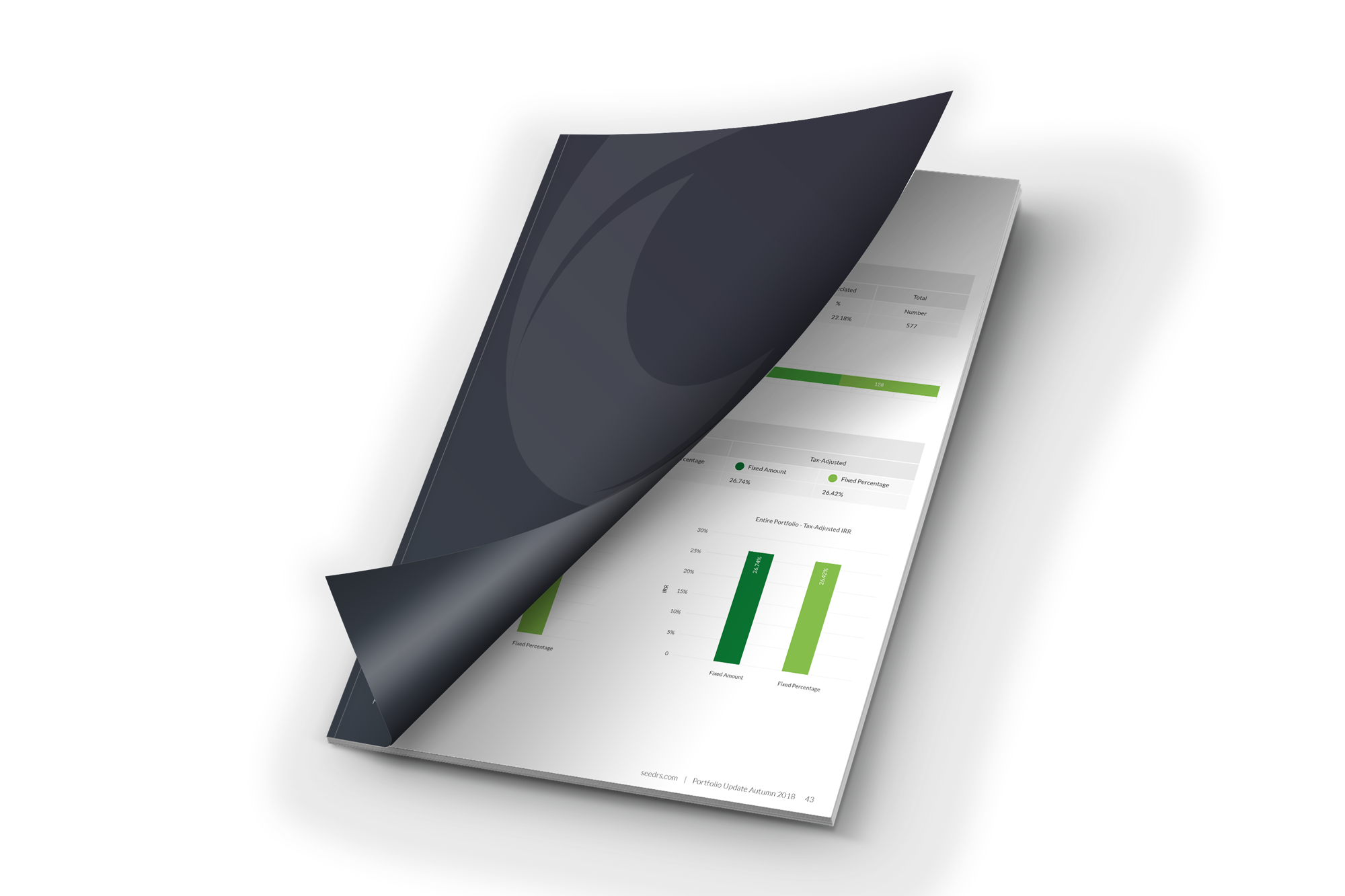 Portfolio Update | Autumn 2018
Download our latest Portfolio Update, reflecting the characteristics and performance of deals funded on Seedrs.
Report Highlights
Platform-wide 12.02% non-tax-adjusted IRR (tax-adjusted: 26.42%)

577 deals have been funded across 17 diverse sectors.

No one sector accounts for more than 12% of the portfolio


Ernst & Young LLP (EY) confirmed valuation process; industry-standard International Private Equity Valuation (IPEV) Guidelines
This report has been approved as a financial promotion by Seedrs Limited ("Seedrs"), which is authorised and regulated by the Financial Conduct Authority. Investing in the types of businesses referred to in this report involves risks, including loss of capital, illiquidity, lack of dividends and dilution, and it should be done only as part of a diversified portfolio.
The performance figures set out in this report refer to the past, and past performance is not a reliable indicator of future results. Most of the performance figures reflect paper returns, which means that while they show the notional performance of investments based on market activity, they do not necessarily reflect the cash returns that could be achieved if the relevant investments were sold. Given that there is no secondary market for most of these investments, it may difficult to sell them at all. Where performance figures include conversions from another currency, those figures may increase or decrease as a result of currency fluctuations.
All tax treatment referred to in this report depends on individual circumstances and may be subject to change in future.
Seedrs does not provide legal, financial or tax advice of any kind, and nothing in this report constitutes such advice. If you have any questions with respect to legal, financial or tax matters, you should consult a professional adviser.
For more information about the risks of investing please visit: www.seedrs.com/risk_warning
Seedrs Limited is authorised and regulated by the Financial Conduct Authority (No. 550317).
© Seedrs Limited 2016. All rights reserved. Seedrs is a registered European Community trademark (No. 008771537) and registered United States service mark (No. 85423072) of Seedrs Limited, a limited company registered in England and Wales (No. 06848016), with registered office at Churchill House, 142-146 Old Street, London EC1V 9BW, United Kingdom, VAT No. GB 208 3065 32. Seedrs.com is a website owned and operated by Seedrs Limited.